Our Pastor
Mar 6, 2022
Reverend Michael-Aaron Poindexter, M.Div.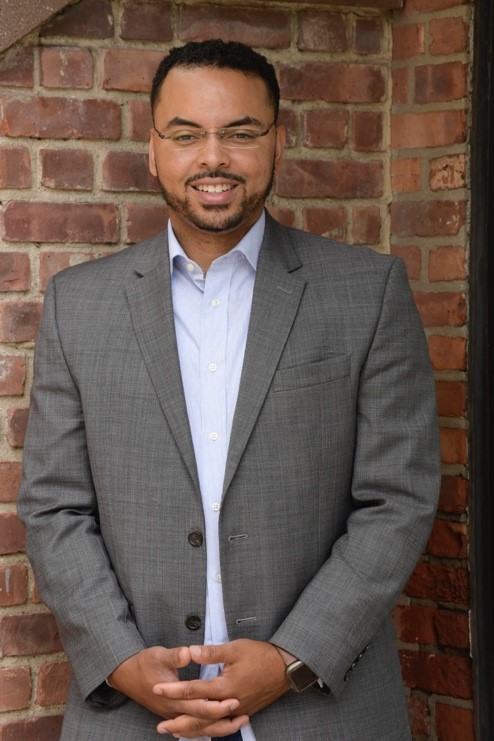 A native of the Bronx, NY, Michael-Aaron Poindexter serves as the proud Pastor of the Macedonia Baptist Church of Albany, NY. Before transitioning to Macedonia, Reverend Poindexter served faithfully as the Minister of Community Life and Outreach/Youth of the Metropolitan Baptist Church of Albany, NY, for nine years.
On November 14, 2020, he was elected by the membership of the Macedonia Baptist Church to serve as their fourth Pastor, succeeding a beloved community leader in the Capital Region and Pastor of Macedonia for 35 years, Reverend Leonard D. Comithier. For the next 12 months, Pastor-Elect Poindexter and Pastor Comithier would walk together as the leadership of Macedonia transitioned into a new season, celebrating the remarkable leadership of Pastor Comithier and embracing the new promise of Pastor-Elect Poindexter.
Reverend Poindexter began the journey as Pastor-Elect of Macedonia in the middle of a global pandemic. Within his first few months at Macedonia, God positioned Reverend Poindexter to partner with The United States Federal Emergency Management Administration (FEMA) and Dr. Elgin Taylor of The Sweet Pilgrim Baptist Church to orchestrate mass COVID-19 vaccination efforts at the Albany Armory. Through this partnership, within five weeks, over 700 individuals were vaccinated in the fight against COVID-19. Due to his efforts, Reverend Poindexter was recognized with an award of recognition from FEMA.
While excited about the work that God has laid before him at Macedonia, Pastor-Elect Poindexter knows that his ministry preparation at Metropolitan was invaluable. One of the accomplishments was creating a successful youth summer camp, which he directed and grew numerically, programmatically, and financially for a decade. Upon leaving Metropolitan, the camp had grown to an eight-week full-day camp that welcomed 30 paid staff and over 265 campers. Reverend Poindexter also ensured that camp tuition never exceeded $65 per week and made scholarships available so that every child could have an opportunity to have a wonderful summer camp experience. Reverend Poindexter also began youth church on Sunday mornings, youth enrichment sessions during the week, managed the Metropolitan social media and web presence, and other ministry movements that impacted lives.
By profession, Reverend Poindexter is a corporate executive tasked with focusing on community impact at a local financial institution. Before his current position, he joyfully worked with students and families in the City School District of Albany for six years. Understanding commitment to community, Reverend Poindexter also serves on the Board of Directors for the American Heart Association, The United Way of the Greater Capital Region, and the Regional Foodbank of Northeastern New York.
He has earned a Bachelor of Arts degree (B.A.) in Interdisciplinary Studies from the State University of New York - University at Albany (2009) and a Master of Divinity degree (M.Div.) from The United Theological Seminary of Dayton, OH (2014). He is currently completing a second master's degree in Social Work (MSW) at his alma mater, UAlbany. He has had the pleasure of preaching, speaking, and teaching at various churches, community venues, and higher education institutions across the nation and has been the recipient of multiple community awards and recognition.
He and his beautiful wife Amber are the proud parents of one son and three daughters.