Bakari Lake-Sample Memorial Educational Scholarship
Jan 25, 2022
Reverend Michael-Aaron Poindexter, Pastor
Macedonia Baptist Church
26 Wilson Avenue
Albany, New York 12205

Phone: (518) 489-4370
Annual Deadline: April 15
"Good Music, Good Food, Always keeps me in a Good Mood."
~ Bakari M. Lake-Sample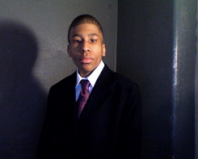 "Those we love remain with us for love itself lives on, and cherished memories never
fade because a loved one is gone. Those we love can never be more than a thought apart.
For as long there is a memory, they'll live on in our hearts." ~ Author unknown
About Mr. Bakari M. Lake-Sample
Mr. Bakari M. Lake-Sample was born on August 24, 1985, in Albany, New York. He was educated locally at St. Pius X School and Bishop Maginn High School. After graduating from high school, Bakari attended SUNY Buffalo State (formerly known as Buffalo State College) where he earned his Bachelor of Arts degree in Media Production on May 16, 2009. Since 2010, Bakari was on his way to earning his Master of Science degree in Communications with a concentration in Media Production at the College of Saint Rose. During his undergraduate and graduate school career, Bakari developed and maintained a website devoted to underground artists (www.areyouinthatmoodyet.com). Bakari passed away on January 29, 2012.
Bakari had a love for many things, but his greatest love was music. From a young age, he spent time listening and studying various forms of music. He played the piano, wrote rap lyrics, produced other artists, and critiqued rappers of his time. He was always current in the latest news in the hip-hop community. During his undergraduate studies in Buffalo, he acquired recording equipment and this led to the production and creation of numerous innovative beats. He turned his dorm into a recording space for artists to produce their music and record in a comfortable environment. He initiated his website while at Buffalo State. It started as a blog and evolved into the website www.areyouinthatmoodyet.com. He spent time managing his own material but also devoted his time to posting and hosting various hip-hop artists; giving them a chance and opportunity in the music world. His website was devoted to providing quality content that is enjoyable to everyone.
" Nothing can ever take away the love a heart holds, dear fond memories linger
every day, remembrance keeps them near." ~ Author Unknown
TO APPLY TO THE BAKARI M. LAKE-SAMPLE MEMORIAL EDUCATIONAL SCHOLARSHIP CLICK ON THE APPLICATION BUTTON BELOW.